Born to Italian immigrant parents, Miele grew up in the heart of the Bronx in the Depression and World War II era, and used a natural business sense to build construction and real estate companies.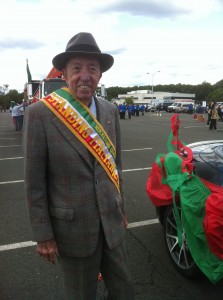 Later in life, motivated by a sense of civic duty, Miele would become involved in local politics, running for state Assembly, Rockland County Executive and Supervisor of Ramapo.
Since the mid-1990's, Miele has been the publisher (currently publisher emeritus) of the influential weekly newspaper Rockland County Times, est. 1888. He is a former co-host of a community radio show on WRKL dealing with local political issues of the day.
Some of Miele's accomplishments include building the first medical plaza in the Bronx; building up several properties in downtown Nanuet; taking a lead role in the construction of a new county courthouse, a project that had stalled prior to Miele taking control; leading the effort to remove the illegal Ramapo tollbooth on the NYS Thruway; fighting unfair taxes on Rockland County from the MTA long before it was a cause-celebre; and leading a successful campaign for a vote against a hike in school taxes, to name a few.
Miele is an active philanthropist and has donated time and money to Italian-American causes including the Italian-American Scholarship Fund, the twinning of Andretta, Italy and the Town of Ramapo, and in 2009 after a major earthquake shook Italy, Miele donated relief for Campania, the region around around Naples where his family derives. Miele also promotes Italian-American cultural awareness in his Musings published in the Rockland County Times, highlighting the experiences of Italian-American laborers, the struggles of early Italian-American immigrants, and today's prominent Italian Americans.
In his youth, Italian-Americans still faced significant prejudice from some in society. Miele overcame this negativity while still holding to a fierce love of the American way. In fact, Miele is a quintessential American who believes hard work and personal enterprise are the ultimate arbiters of one's success in life.